Data-Entry Jobs Qualification and Salary
Inputting of information into the computer through different devices such
as a keyboard, scanner, disk, and voice are known as data entry. It is a job
where employees can input data into a computer from non-electronic
forms of data. If you have a good typing speed and basic knowledge about the computer you can apply for data entry jobs. A data entry employee is responsible for upload and updates data into a computer database.
Skills needed for a Data-Entry Operator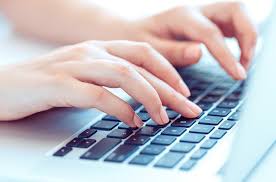 Need Basic Computer Knowledge
If you want to be a data entry operator you need basic software knowledge. In the data-entry process, you may use word processors,
databases, spreadsheets, and other record management software. Data is entered with the help of mouse, keyboards,
scanners, and voice and so basic computer knowledge is a must.
Typing Skill
These employees deal with a huge amount of data entry in a
the very short span of time so data-entry operators need typing
skills. A good data entry operator can type around 55 to 60 word
in a minute.
Patience
Workload may be heavy, or there might be some other problem
during data entry, but be patient.
Good in Excel
Data-Entry expert needs good experience in Excel. Excel is an excellent tool for organizing, storing and manipulating data.
Some of the tricks that will assist with data entry into excel sheet
a) Control the cell pointer during data entry
b) Store data within Data Tables
c) Create Data Entry Forms
d) Create Data Validation Lists
e) AutoCorrect for short-hand data entry
f) Autocomplete to automate Data Entry
g) Proofread with Audio
Good written and communication skills
The data-entry operator needs good verbal communication and
written communication skills, because data-entry operators need to
communicate extensively both inside and outside the team.
Data Entry Operator Responsibilities
Verify the Accuracy of Data
The important part of data entry is to verify the accuracy of the data.
Make necessary corrections
Errors may take place while the data entry process. It is necessary to avoid unwanted data.
Help in Creating a Data Management System
Data-Entry operators are constantly working with a large amount of
data and management team so build a data management system.
Be confidential
One big issue in data entry firm face is confidentiality.
Qualification Needed for Data Entry jobs
For data entry jobs special qualification is not needed. Have a good typing speed and English knowledge. Only High school degree is needed for Data
Entry job.
Data Entry operators Salary in India
A fresher Data Entry operator can earn up to an average of Rs 145,000
per year included tips, bonus and overtime pay. 1-4 year experienced data entry operators can earn up to Rs 160,000 per year. Full time and part-time data entry jobs are available in Job portals.